DISCOVER NEW
DISCIPLINE CURL IDÉAL
KÉRASTASE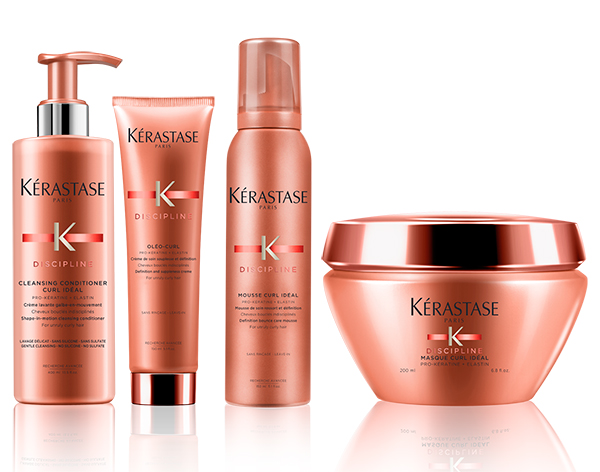 FOR ALL CURLY HAIR LOOKING FOR SHAPE AND DEFINITION



TAMED CURLS

, UNTAMED FEMININITY
Kérastase creates the 1st hair care range dedicated to curly hair to perfectly discipline natural curls. Create shape, definition and softness for curls day after day. At the core of the Discipline Curl Ideal formula is the breakthrough association of Pro-Kératine with Hydrolyzed Elastin. Its unique properties perfectly tame curls while providing an extreme fiber elasticity. Whether you want glamourous, sensual or vivacious curls, find the expert solution perfectly suited to your curl type.
CREATE YOUR IDEAL CURL COCKTAIL
GLAMOROUS
Larger, Loose Curls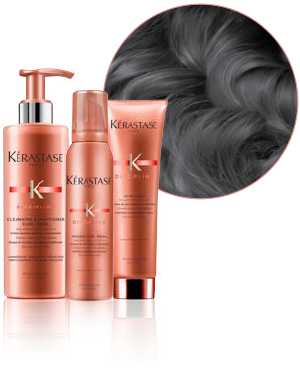 SENSUAL
Medium, S Pattern Curls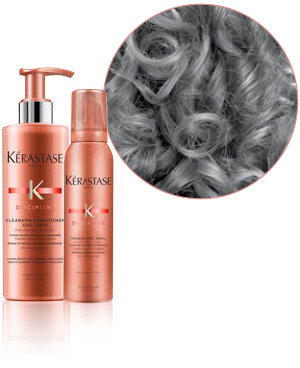 VIVACIOUS
Tight, Corkscrew Curls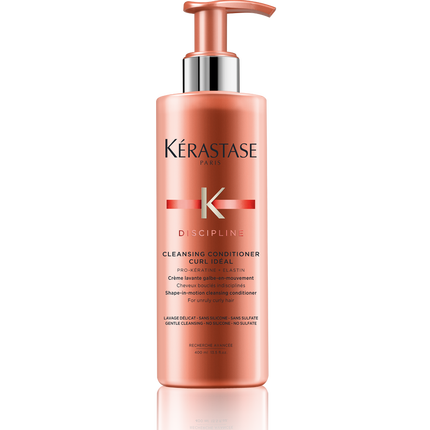 KÉRASTASE DISCIPLINE
CLEANSING CONDITIONER
CURL IDÉAL
Shape-in-Motion Cleansing Conditioner for Curly Hair
BENEFITS:
Sulfate-free and silicone-free cleansing conditioner that promotes nourished curl definition with natural bounce and a smooth finish.
Cleanses and nourishes hair to achieve perfect curl definition in one step
Low lather technology gently removes impurities
Creamy texture immerses each fiber in a protective layer of cream to smooth hair
HOW TO USE:
On wet hair, apply 4-7 pumps depending on hair length
Work into the scalp with circular massages to remove all impurities
Add some water and spread along the lengths and tips, optimizing care along all curl curves
Leave in for 3-5 minutes to maximize conditioning penetration
Emulsify generously and rinse thoroughly
Repeat the application to wash twice if desired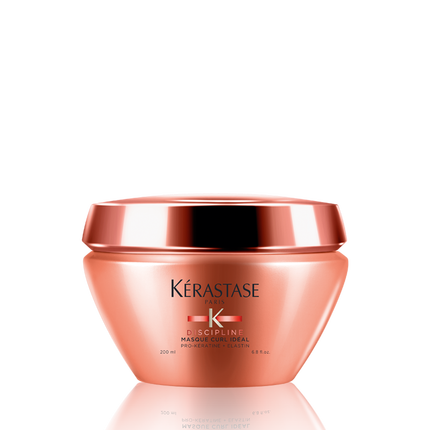 KÉRASTASE DISCIPLINE
MASQUE CURL IDÉAL
Shape-in-Motion Masque for Overly-Voluminous Curly Hair
Size: 200 ML
Price: $62.50
BENEFITS:
Nourishing hair masque for tight, thick curls that tames volume at the root and promotes all-day frizz control.
Reduces volume at the root
Adds intensive curl nourishment
Offers frizz control
Provides fiber suppleness and strength
HOW TO USE:
Apply to damp, cleansed hair from roots to ends
Massage into hair fiber and spread on the scalp for greater root control)
Leave in for 5 minutes
Rinse thoroughly and follow with appropriate primer(s)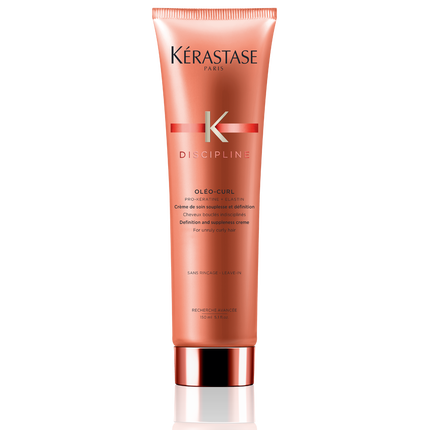 KÉRASTASE DISCIPLINE
OLÉO-CURL
Definition & Suppleness Cream for Curly Hair
BENEFITS:
Defining cream that promotes relaxed, frizz-free curls with hydration and shine.
Enhances curl shape and definition without rigidity
Promotes relaxed and supple curls with a cosmetic touch
Provides frizz control and curl hydration

HOW TO USE:
ON TOWEL-DRIED HAIR
Spread downwards on lengths and ends, using fingers to gently relax curls
Leave in and style as desired
ON DRY HAIR AFTER STYLING OR AS A SECOND-DAY TOUCH-UP
Smooth over lengths and ends, pushing curls up to reshape
Leave in and style as desired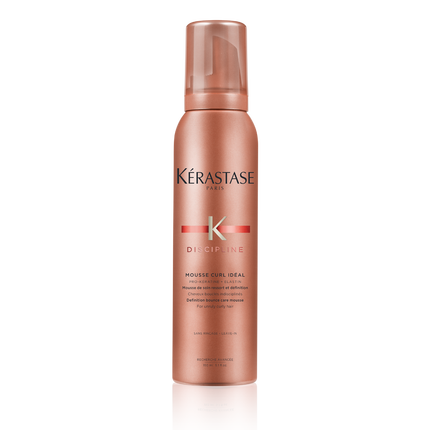 KÉRASTASE DISCIPLINE
MOUSSE CURL IDÉAL
Definition Bounce Care Mousse for Curly Hair
BENEFITS:
Defining mousse that enhances curl shape, promoting bounce and a soft finish.
Enhances curl shape and definition without rigidity
Promotes dynamic bouncy curls with a treated, soft care hair touch
Provides frizz control
HOW TO USE:
Apply to cleansed and treated damp hair
Spread along the length of hair with a scrunching gesture
Leave in and style as desired.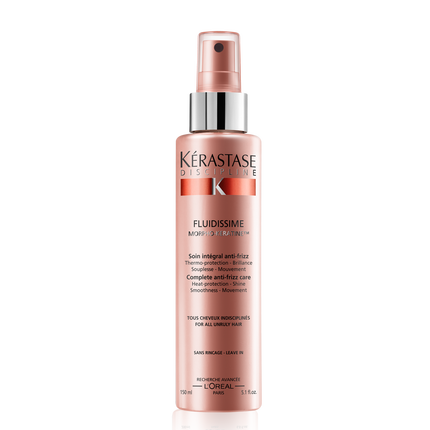 KÉRASTASE DISCIPLINE
SPRAY FLUIDISSIME
Thermal anti-frizz protection spray provides shine and control
BENEFITS:
Instantly eases blow dry with heat protection up to 450°F
Provides shine and control with 72 hours of frizz protection
For fine to coarse, unmanageable hair
HOW TO USE:
Spray section by section throughout lengths of towel-dried, damp hair. Proceed to blow dry.
KEY TECHNOLOGY:
MORPHO-KERATINE: technology restores inner flexibility and weightlessly disciplines the outer fiber for perfect hair movement, taming frizz and protecting against humidity
CONDITIONING AGENTS:to reduce static and frizz
SHINE AMPLIFIER:to add shine to the hair
XYLOSE:for heat styling protection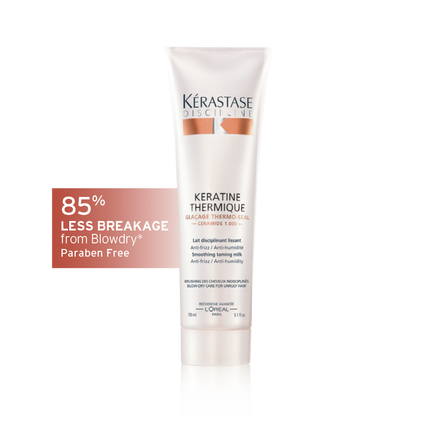 KÉRASTASE THERMIQUE
KERATINE THERMIQUE
Advanced technology that smoothes hair for salon quality anti frizz protection without weighing hair down.
BENEFITS:
85% LESS BREAKAGE from Blow dry
Smooths frizz and fly aways with humidity protection
Restores inner flexibility
Excellent leave-in care
HOW TO USE:
Apply to towel-dried hair. Detangle, but do not rinse. Blow dry, then heat style.
KEY TECHNOLOGY:
CERAMIDE 1,000
Inner Restoration for maximum smoothness with movement
MORPHO-KERATINE™
Amino Acids for fiber replenishment
Ceramide R for fiber fortification
Tames frizz and protects against humidity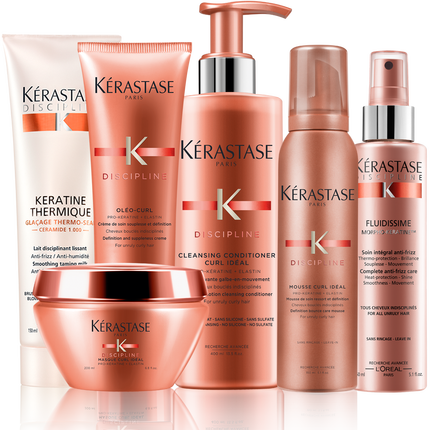 KÉRASTASE DISCIPLINE
FULL DISCIPLINE CURL IDEAL
REGIMEN
Curly Hair Looking for Shape and Definition
Entire Set Price
Price: $279.50
Kerastase
North Dallas / Plano / Frisco / Allen / McKinney / Addison TX