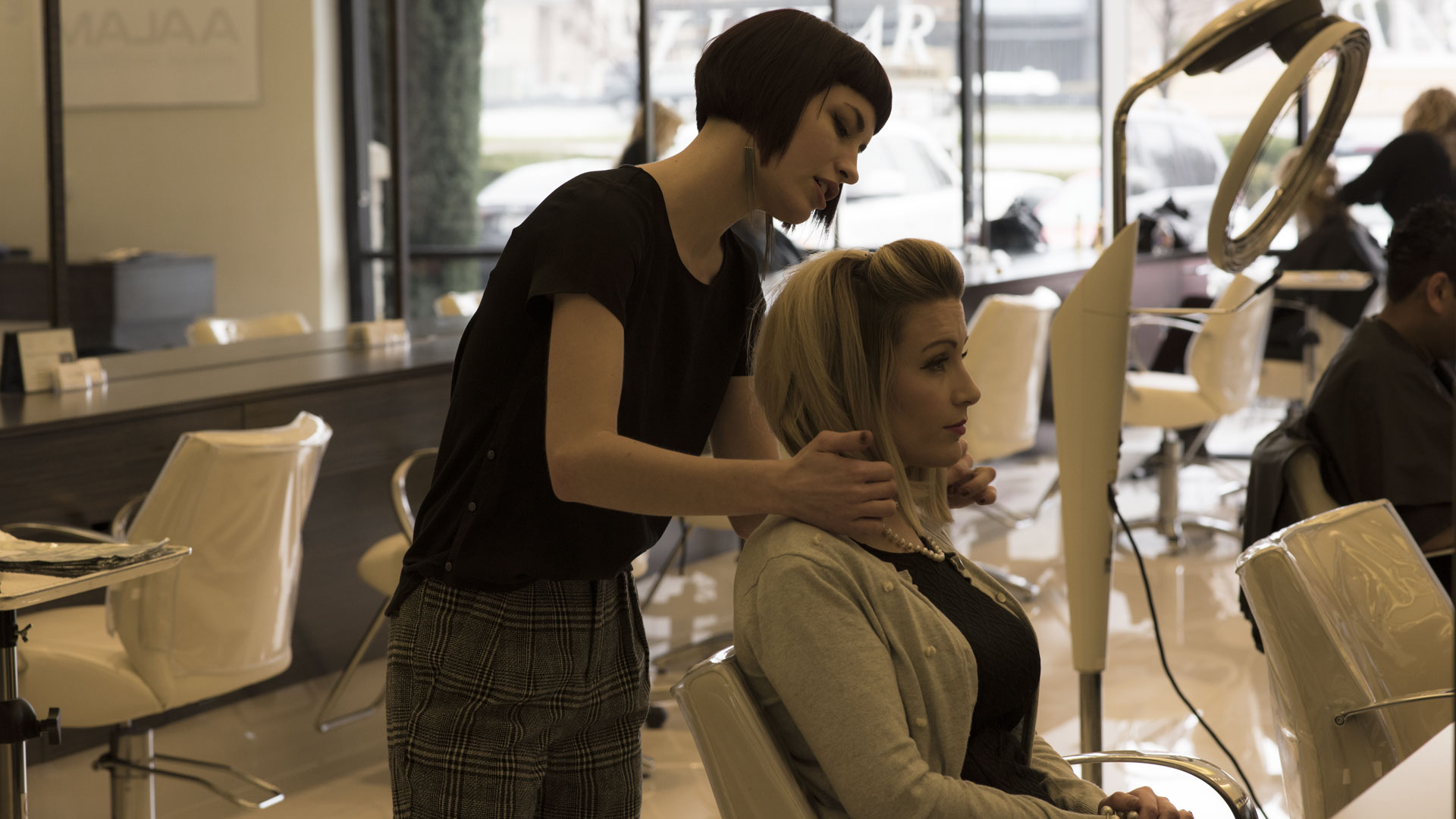 AALAM The Salon
CONSULTATION
Get The Most Out Of Your Salon Experience
We all strive for that amazing salon experience. But visiting a salon for the first time, or even the hundredth time, and putting your hair into someone else's hands can be a frightening experience.
At AALAM, we believe a professional consultation at the beginning of your salon visit is very crucial for the perfect result. Almost anyone can recommend products or a hair style, think of that one friend who always has an opinion on how you should cut or color your hair. At a professional hair salon your service provider takes the time to get to know you and has the knowledge and experience to accurately recommend treatment regimens and hair styles that work best for you.
Whether you're just getting a trim or completely transforming your hair, you should feel fabulous when you leave the salon. Making sure that you achieve the look you are going for requires a few important steps, starting with good communication between you and your stylist.
---

Here are some tips to ensure that you
get the most out of your salon experience:
*

It can be nerve wracking to see a new stylist or colorist
particularly if you're getting a dramatic cut or color service. When you call the salon, tell the receptionist in detail what you'll be getting done so that they can ensure you're placed with the right person. For example, it's important to note if you have curly hair, because you can ask if any of the stylists specialize in that texture. Or, if you're opting for Balayage highlights, note that you have blonde hair, there may be a staff member who is especially skilled with that hair color technique.
*
A picture is worth a thousand words
The best way to communicate with your hairdresser is visually, so don't be afraid to bring in photos and examples of styles / colors you really like. Everyone can have a slightly different interpretation of what short, choppy layers mean, so showing an image makes it clear to your hairdresser what you're aiming to achieve. This is especially important for color appointments so your technician can understand the tone of color you're looking for, and in return show you examples of the color they think they can achieve on your hair.
*
Give it some thought
Before taking the plunge with a new haircut or hair color, take a few minutes to figure out what you love about your hair, what can use some improvement, and what your lifestyle is like. For example, if you've got a busy lifestyle, a high maintenance cut may be impractical. Also, if that trendy razor sharp bob you're dying for won't suit your face shape, be prepared to listen to the stylist's advice. After all, it's their experience and knowledge you're paying for.
*
The best things in life take time
Try not to 'squeeze' your hair appointment into your very busy day. Although sometimes this is unavoidable, it is always preferable for both you and your hairdresser not to feel rushed. This allows for extra color development time if needed (to reach that perfect tone), those last little finishing touches to a style or even a relaxing conditioning treatment and head massage at the shampoo bowl. Visiting a salon should be an enjoyable, indulgent experience, so make the most of your time there!
*
Get vocal
Before your stylist starts cutting or coloring, tell them a little about your routine so they can make sure that your 'do isn't too high maintenance. Getting a great haircut that fits your lifestyle is easier if you speak freely with your stylist. This is also important when it comes to changing your color. Think about how much time you can spare to maintain your color. Subtle highlights can be touched up every 8 weeks or so, but if you have dark hair and go blonde, your roots will need retouching every 3-4 weeks. Ask how often you'll have to get a trim or retouch your hair color. That way you don't have to worry about too much upkeep if you're particularly busy. Your stylist will likely have different options they can suggest that will be flattering as well as fit your lifestyle.
*
Home hair care routine
Make sure to ask your stylist to tell you about the products he or she used in order to help you build a home hair care routine. The products the stylist recommend will help you recreate the same flawless finished look at home. If the products they recommend are priced higher than your budget allows, just ask if there are less expensive alternatives.
*
Rebooking your appointment
Don't forget to book your next appointment before you leave. Rebooking your appointment in advance ensures an open appointment time that best fits your scheduling needs and ensures the availability of your preferred service provider. It's easy to let time get away from you, but waiting too long between services often means you have to cut more hair off or spend more time applying color. Your stylist will be able to advise you as to when you should return to get your cut refreshed or your color retouched in order to maintain healthy and polished looking hair.
---
At AALAM
we know that choosing a new colorist or stylist is an important decision. Whoever you choose, rest assured that every team member has been trained in house to ensure the highest quality of work and consistent service no matter who you see. We can help you feel apart of the family in no time.
Please come and visit us at any time. You don't have to have an appointment to check out our salon. Our friendly receptionists will be more than happy to show you around and tell you more about us. If you'd like to speak with a stylist, our receptionists can set up a consultation for you either when you stop by the salon or by appointment. Consultations are a great way to get ideas, share concerns and really get a feel for the way we work.
All consultations are complimentary.
AALAM The Salon
Voted Dallas Best Hair salon
Serving
North Dallas Plano Frisco Allen McKinney Addison TX