SHORT CASUAL TEXTURE
FOR A CASUAL BEACHY EFFECT ON SHORT HAIR, HERE'S AN EASY WAY TO CREATE A LOOSE, NATURAL FINISH
1.  Begin by priming clean, damp hair with a THERMIQUE.
2.  Apply a generous amount of SPRAY À PORTER
3.  Take a 2-3″ section of hair and weave between your fingers, in an undulating wave (it should look like a continuous "S" pattern).
4.  Blow dry using a diffuser on medium heat & low velocity. Continue throughout.
5.  Once dry, apply a light mist of SPRAY À PORTER and mold waves into place.
6.  For extra control, spray with LAQUE DENTELLE to finish.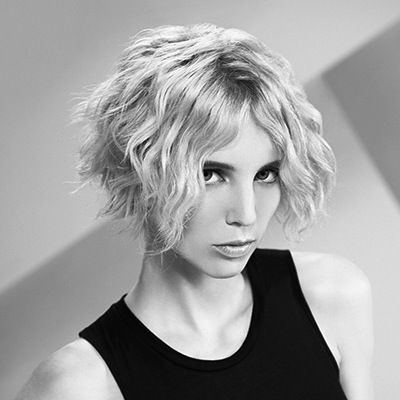 CIMENT THERMIQUE - KERASTASE
Heat-activated blow-dry primer for weakened hair
BENEFITS:
85% LESS BREAKAGE from Blow-dry*
Strengthens and fortifies the hair fiber
Smooths away cracks and split ends while adding shine
Excellent leave-in care
SPRAY À PORTER - KERASTASE
Buildable Texture Spray for Beach Waves

BENEFITS:
A texture spray that creates instant beach waves without the stickiness.
Can also be used to style second day hair.
Multi-dimensional beach spray
Buildable texture
Soft, touchable finish
UV and heat protection
Hold: Medium and Flexible
Create: Beachy waves or second day hair
Stylist Tip: Use a curling iron for a soft, more defined texture.
LAQUE DENTELLE - KERASTASE
Flexible Hold Hairspray for Working or Finishing Styles
BENEFITS:
A micro-fine diffusion hairspray that sets all styles in place with a flexible long-lasting hold.
Works perfectly with heat tools.
Buildable hold
Flexible and long-lasting finish
UV filter & heat protection
Anti-frizz and humidity protection
Color protection
Hold: Flexible
Create: All styles. Great to set all styles in place.
Stylist Tip: Excellent with heat tools for setting.