AURA BOTANICA
KERASTASE
96% NATURAL ORIGIN* INGREDIENTS

IT'S NOT BY CHANCE, IT'S BY CHOICE.

HANDPICKED SAMOAN COCONUT & MOROCCAN ARGAN OILS
IT'S NOT ONLY TRADITION, IT'S A MATTER OF QUALITY.

NO SILICONES, NO SULFATES, NO PARABENS
IT'S NOT AN OPTION, IT'S OUR GUARANTEE.

RESPONSIBLY SOURCED INGREDIENTS, SUSTAINABLE PRODUCTION
IT'S NOT JUST FOR THE SAKE OF IT, IT'S FOR COMMON INTEREST.

NATURE IN A REFINED EXPERIENCE
IT'S NOT A CONTRADICTION, IT'S OUR PROFESSIONAL COMMITMENT.
AURA BOTANICA
FOR REMARKABLE GLOWING HAIR
IT'S NO LONGER AN IDEAL, IT'S NOW A REALITY
POWERED BY HIGHLY EFFECTIVE NATURAL INGREDIENTS
Highly efficient ingredients provide a breakthrough formula that creates a lightweight feel, nude touch, and remarkable glow. Both of the main ingredients have been handpicked and are responsibly sourced.
COCONUT OIL
Sustainably extracted, the Samoan Coconut Oil is handpicked for ultimate purity. Short lipid chains penetrate and anchor deep into the fiber delivering durable nutrition, suppleness, strength.
ARGAN OIL
Sustainably extracted, the Moroccan Argan Oil is handpicked for maximum preservation of ingredients. Ultra rich lipids Omega 6 and 9 nourish the dry surface, delivering softness and shine.
FRAGRANCE
An aromatic experience, the Sweet Orange Essential Oil offers uplifting notes of citrus and herbs, balanced with Damask Rose Floral Water for a hint of soothing florals.
THE REFINED LUXURY OF REMARKABLE GLOWING HAIR
KERASTASE
Aura Botanica
Bain Micellaire
Gentle aromatic shampoo for dull, devitalized hair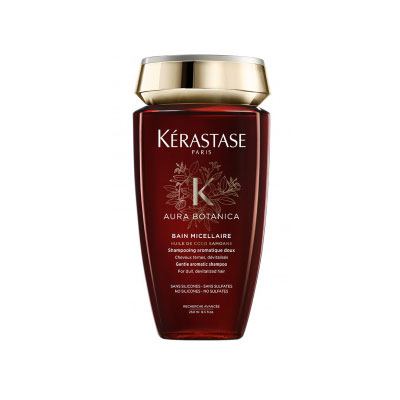 Benefit
Gentle, yet effective 96% natural origin* formula transforms into a luxurious lather, cleansing away all impurities. Responsibly sourced Samoan Coconut Oil and Moroccan Argan Oils nourish the hair fiber. Natural micelles cling to dirt and impurities, removing them efficiently to deliver a shiny finish and nude touch. Highlighted by an aromatic fragrance of sweet orange essential oil.
*We consider ingredients to be of natural origin if they retain more than 50% of their molecular structure after being processed from a natural source.
• 48 hours durable nutrition
• 72 hours anti-frizz
• 3X Shinier hair
• No added weight, no coating, no oiliness
• Light, airy lather
• No silicones, no sulfates, no parabens
How To Use
Apply the shampoo to wet hair, massage well to release its rich, airy lather and aromatic fragrance. Rinse well. Perform two shampoos before proceeding to Soin Fondamental.
After the shampoo, the hair will have a natural touch to it, slightly stiff, this is to be expected. Do not worry, this sulfate-free, silicone-free shampoo's natural origin surfactant agents and Coconut Oil base gently yet efficiently cleanse hair. When using the Bain Micellaire, always use Soin Fondamental after.
Key Technology
• Samoan Coconut Oil for nutrition, suppleness, shine and strength
• Moroccan Argan Oil for nutrition and shine
• Sweet Orange Essential Oil
• Remaining 4% are preservatives and fragrance